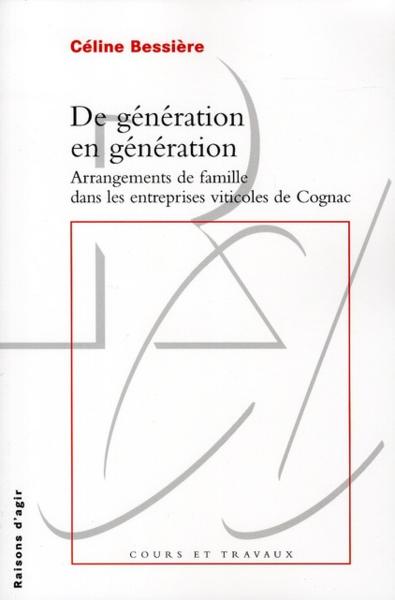 In 2010, I published From Generation to Generation. Family Arrangements in Cognac Winegrowing Farms(De génération en génération), Paris,Raisons d'agir, 217p.
Farmers represent only 3% of the working population in France. Yet they get media attention when raw material prices soar or when health and environmental crises raise questions about their production methods. In contrast, the social sciences have ceased to focus on farmers since the 1980s. My book aims to put these worlds back on the research agenda.
Agriculture in contemporary France is dominated by family businesses. Why and how do people become farmers today in France? Why and how do children of farmers take over a family farm when other perspectives could be opened up to them? These questions need to be revisited today, taking into account the transformations in the agricultural sector: the globalization of markets, the expansion of farms or the extension of farmers' educational training.
This book is based on ethnographic fieldwork carried out between 1997 and 2005 in winegrowing farms in the Cognac region, from the large estates of the wine bourgeoisie to small farms. In family businesses, relationships between grandparents, parents and children, between brothers and sisters and between spouses are crucial. The book focuses on situations when – despite often difficult economic and social conditions – young winegrowers anyhow take over the family business. Depending on economic and social situations, taking over the family farm can thus constitute both a family duty and/or a personal opportunity.
My research reveals a paradox. On Cognac wine-grape farms, parents socialize one (or more) of their children to like the job and take over the business. This long-term socialization varies by gender. Farm property, professional skills, and the status of business head are in most cases transmitted to male heirs. However, young male winegrowers present themselves as self-made entrepreneurs.
Some other papers
2014, « Female and Male Domestic Partners in Wine-Grape Farms (Cognac, France): Conjugal Asymetry and Gender Discrimination in Family Businesses », The History of the Family, vol. 19, Issue 3,p. 341-357.
2011 "Economic Strategies of Winegrowing Family Businesses in Cognac (France, 1997-2005)", Estudos Sociedade e Agricultura, 19(2); p. 344-373 [in Portuguese]